Each year, the captains of the golf section at Exeter Golf and Country Club elect a Charity of the Year as a focus for their fundraising efforts. This year, Lyne Beevers, Ladies Golf Captain and Lyndon Bent, Mens' Golf Captain have chosen the Exeter Neonatal Unit at the Royal Devon and Exeter Hospital.
Golf Committee representative, Steve Sheldon visited Senior Nurse, Sue Prosser at the Exeter Neonatal Unit to find out more about how the unit supports families in the region and how the money from this year's fundraising will be used.
Exeter Neonatal Unit provides vital care for premature babies and full-term babies requiring urgent medical help at the start of their new life. Whilst the medical provision is financed by the NHS, the Neonatal Unit relies on charitable donations and fundraising to provide families with a comfortable environment to use during the incredibly distressing times they are with their babies at the unit.
Research proves that quiet calmness and low-level lighting encourage early development in premature and new-born babies. For Sue Prosser, achieving the right environment is essential in ensuring the well-being of these babies. Many of the staff in the Neonatal Unit have completed specialized training so they share a high level of understanding about this.
Charitable donations support ongoing staff development such as this, along with enhancements to the surroundings within the unit itself.
From welcoming rest areas and comfortable overnight bedrooms to kitchens where families can prepare food; the thought and planning is evident throughout. Making the unit more comfortable and functional for families, ensures they can be there for longer, which is better for both parents and babies.
Exeter Neonatal Unit has ideas to expand this further with new ensuite facilities for overnight family bedroom areas.
Steve Sheldon said, "It was inspirational to see the thoughts and changes at the Exeter Neonatal Unit. Gone are the sterile magnolia walls, replaced by areas of soft colour, mixed with calming décor and thoughtful touches of comfort for families. Looking after the families with babies needing this specialized care is vital. When you think that 10% of babies born may spend time in neonatal units across the region, it's a cause which affects many people – parents, grandparents, brothers, sisters, and of course the new-born babies later in life."
Around 60,000 babies are born in the South West each year, so 10% equates to 6,000 babies who may be admitted to neonatal units across the region.
There are 26 cots providing different levels of care at the Exeter Neonatal Unit. With 60 members of staff caring and supporting babies and families including registered nurses, nursery nurses and health care assistants. The different levels of care they provide include intensive care, high dependency care, special care and transitional care.
The golf section at Exeter Golf and Country Club have an action-packed calendar with many fundraising opportunities. From the Men's and Ladies' Pro Am competitions to the Captain's Trophy golf events, the Men's Captain and Ladies' Captain Golf Days to a brand new competition for August – the Captain and Pro Challenge Trophy where the entry fees and prize draw proceeds will be donated to the charity.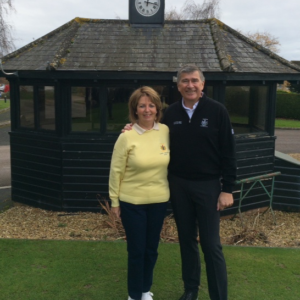 L-R: Lyne Beevers and Lyndon Bent
2018 Golf Captains
find out more about Exeter Neonatal Unit
Exeter Neonatal Unit Facebook Page